Isabel Bernal, M.D.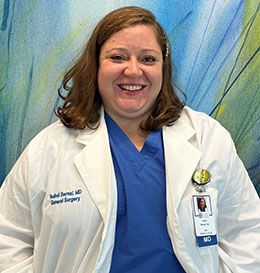 Dr. Isabel Bernal graduated medical school from the University of Puerto Rico in 2016 and completed her surgical residency at Maine Medical Center in 2021. After residency, Dr. Bernal went on to complete a mastery of general surgery fellowship at Geissinger in Danville, Pennsylvania.
Dr. Bernal enjoys being able to help others learn and better themselves while being part of a team where she can broaden her knowledge and understand continuous improvement in the surgical field. She also enjoys hiking, swimming, and spending time with her animals.
Dr. Bernal is fluent in English and Spanish and will be seeing patients in the Andover and Marston Street offices of Community Medical Associates.